Yes, I've constructed as Ozzy book using the same format as my Maiden book of last year. It's a full-color, hard cover extravaganza, making full plunder of all the Ozzy and band interviews I've done over the years, all that quote footage that has been in the archives forever waiting to be unleashed.
What I've done is used the day-by-day, diary (of a madman) format and stuffed in hundreds of journal entries and quotes, along with masses of live photography and memorabilia shots throughout.
Quick description: large format hardcover, 8 3/4" x 11 1/4", full color throughout, est. 250 pictures, including ads, tour posters, rare sleeves, shirts, live shots from all eras, including lots of our beloved Randy.
But there's real textual heft to this thing, at over 80,000 words over 252 high quality pages. No Ozzy book contains more factoids and has such a range of quotations. And despite the easy-read, day-by-day, bathroom read (!) format, I definitely get to say my piece, in the intro decade summaries, in comparative journal entries about other important bands and music trends, about world events. And if that ain't enough, man, Zakk is off the hook. He's the comedian in this thing, although Ozzy reels off some barnburners as well. The following is a look at the layout – just a quick scan of a few pages, done without breaking the spine of the book y'unnerstand: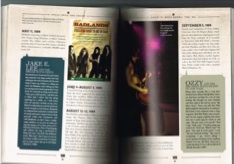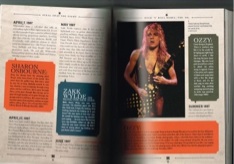 Prices for Steal Away The Night including shipping (the book will be signed, by me, to you, unless otherwise requested):
US orders
$48.00
US funds
Int'l orders
(air mail)
$63.00 Cdn
funds
Canadian orders
$55.00
Cdn. funds
| | | |
| --- | --- | --- |
| | | PayPal happily accepted! Ask me if you'd like a PayPal invoice (please indicate what country you are in), or just do yer usual and direct funds to martinp@inforamp.net. |
Sweet postage savings to be had for multiple orders (or two of pretty much anything—long story, ask me!). Given new mailing system, works best for US orders.



Or mail payment (personal check in US funds, cash, or INTERNATIONAL money order), to:
Martin Popoff
P.O. Box 65208, 358 Danforth Ave.
Toronto, Ontario, Canada
M4K 2Z2




Email me at martinp@inforamp.net with any further questions, and see www.martinpopoff.com for descriptions, cover art and ordering info for my other available 30 or so books.