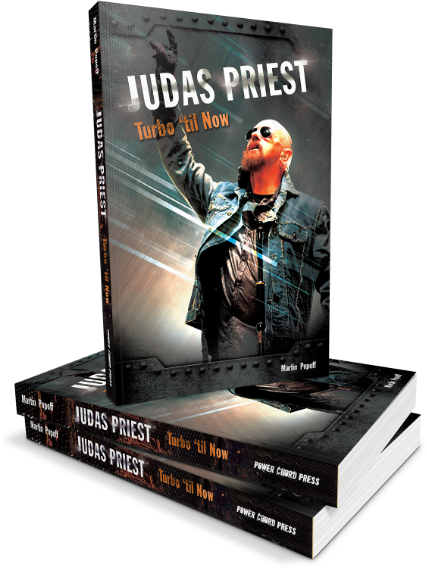 Here it is folks, book II, weighing in at 110,000 words, featuring eight pages of colour plates as well as a handy discography for reference. As the back cover says:
In the follow-up to his Judas Priest: Decade of Domination book, which looked at the band's career from inception through the Defenders of the Faith album of 1984, Martin Popoff now tackles the band's incendiary "hair metal" years through to the triumphant return to form that is 2018's Firepower.
In between, Popoff tackles the live albums, Glenn Tipton's solo excursion, Fight, Two and Halford… all that good stuff that resulted from the Metal God's split with the band before his celebrated return to the throne.
Turbo, Ram It Down, Painkiller, Jugulator, Demolition, Angel of Retribution, Nostradamus, Redeemer of Souls, Firepower… this is the story of nine records all quite different from each other, and all the details an' tales in between. What results is the story of more than 30 years of Priest history, including the making of 1990's Painkiller, a record considered by a younger generation of Priest fans to be the greatest slammin' collection of metal anthems the band ever concocted and rocked.
Judas Priest: Turbo 'til Now includes extensive colour commentary from Popoff's many chats over the decades with those who were there, including Rob Halford, Glenn Tipton, K.K. Downing, Ian Hill, Scott Travis, Ripper Owens and Richie Faulkner, along with producers Tom Allom, Chris Tsangarides and Roy Z. The result is the most in-depth examination of Judas Priest's late '80s to present-day output ever attempted.
Prices including shipping:
US orders
$35.00
US funds
Int'l orders
(air mail)
$47.00 US
funds
Canadian orders
$37.00
Cdn. funds
Also available as an eBook for $9.99 here
| | | |
| --- | --- | --- |
| | | PayPal happily accepted! Ask me if you'd like a PayPal invoice (please indicate what country you are in), or just do yer usual and direct funds to martinp@inforamp.net. |
Sweet postage savings to be had for multiple orders (or two of pretty much anything—long story, ask me!). Given new mailing system, works best for US orders.



Or mail payment (personal check in US funds, cash, or INTERNATIONAL money order), to:
Martin Popoff
P.O. Box 65208, 358 Danforth Ave.
Toronto, Ontario, Canada
M4K 2Z2




Email me at martinp@inforamp.net with any further questions, and see www.martinpopoff.com for descriptions, cover art and ordering info for my other available 30 or so books.