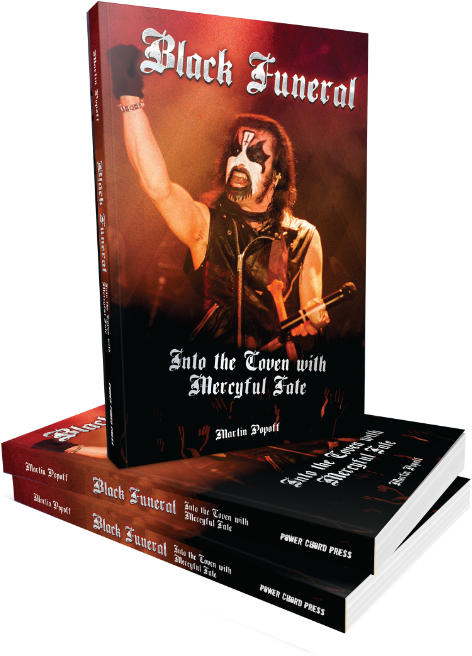 Calling all fun-loving nuns and corpses without souls… Black Funeral: Into the Coven with Mercyful Fate is 275 pages of paranormal progressive power metal rendered in my usual format, namely every song discussed, one chapter per album, with tipped-in sections of colour photography. You've all been very kind in making my recent books like this on Sabbath, Maiden and Priest sell pretty damn good, so this one is very much a style match to those too, with lots of detail and trivia nugget-mining not found amongst the frankly pretty scant material out there on this band.
As the back cover sez…
The heavy metal love for Mercyful Fate and King Diamond runs deep and blood-red.
Now Martin Popoff has unleashed upon this wicked world the first book celebrating this devilish, Danish phenomenon, specifically the root band of it all, Mercyful Fate.
To be sure, any self-respecting fan knows Melissa and Don't Break the Oath, but as with most of his 80+ books, Martin has devised an ulterior motive, and that is the proselytizing upon the good graces of each and every Mercyful Fate reunion album from 1993 through to the band being cast into the fiery pits of hell in the year of our Lord 1999.
Indeed, the classics stand as two cornerstones of superbly crafted black metal madness, but In the Shadows, Time, Into the Unknown, Dead Again and most pertinently 9, are all records blessed with the same sweat ethic and ungodly performance and production standards King applies to anything he does.
It's time to join the coveted coven and enter the pentatonic pentagram and celebrate with Popoff this superlative catalogue of top-shelf heavy metal beloved by Metallica and fans the world over as arguably the only suite of songs as creatively intense as those of Judas Priest circa '76 through '79. Believe it—the good King and Michael and Hank knew what they were doing. Come read how the three of them executed fully the master plan that made this band one for the most discerning of connoisseurs.
Prices including shipping:
US orders
$39.00
US funds
Int'l orders
(air mail)
$48.00 US
funds
Canadian orders
$44.00
Cdn. funds
Book will be signed to you from me, so let me know if it is a present for someone else, or you don't want it signed.
| | | |
| --- | --- | --- |
| | | PayPal happily accepted! Ask me if you'd like a PayPal invoice (please indicate what country you are in), or just do yer usual and direct funds to martinp@inforamp.net. |
Sweet postage savings to be had for multiple orders (or two of pretty much anything—long story, ask me!). Given new mailing system, works best for US orders.

Or mail payment (personal check in US funds, cash, or INTERNATIONAL money order), to:

Martin Popoff
P.O. Box 65208, 358 Danforth Ave.
Toronto, Ontario, Canada
M4K 2Z2




Email me at martinp@inforamp.net with any further questions, and see www.martinpopoff.com for descriptions, cover art and ordering info for my other available 30 or so books.