Yes, I've finally got a Maiden book done, and it's a full-colour, hard cover extravaganza, making full plunder of all the Maiden interviews I've done over the years, all that quote footage that has been in the archives forever waiting to be unleashes.
Also, what I've done is used the day-by-day, diary format and stuffed in hundreds of journal entries and quotes, along with masses of live photography and memorabilia shots throughout.
Quick description: large format hardcover, 8 3/4" x 11 1/4", full color throughout, est. 250 pictures, including ads, tour posters, rare sleeves, shirts, live shots from all eras.
But there's real textual heft to this thing, at over 80,000 words over 243 high quality pages. No Maiden book contains more factoids and has such a range of quotation. And despite the easy-read, day-by-day, bathroom read (!) format, I definitely get to say my piece, in intro decade summaries, in comparative journal entries about other important bands and music trends, about world events, about the movie and literature sources of many of the Steve's and Bruce's lyrics. The following are sorta samples, but in reality, actually pages from a swanky brochure the publisher generated: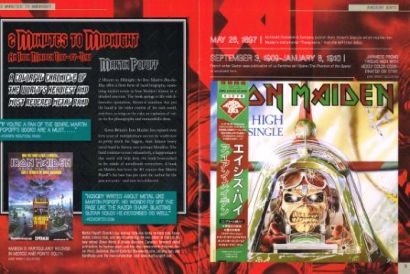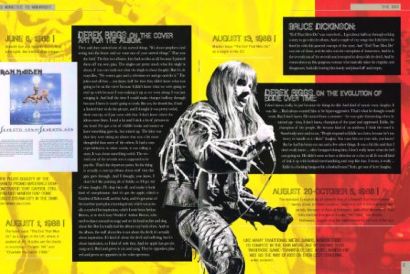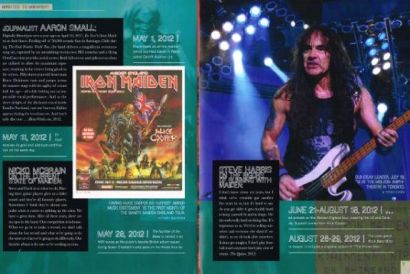 Note, since this brochure, I had them cut way back on the white on black text, plus there's some neat topical anchoring--trust me, the book looks even cooler than this.
This book is completely sold out!