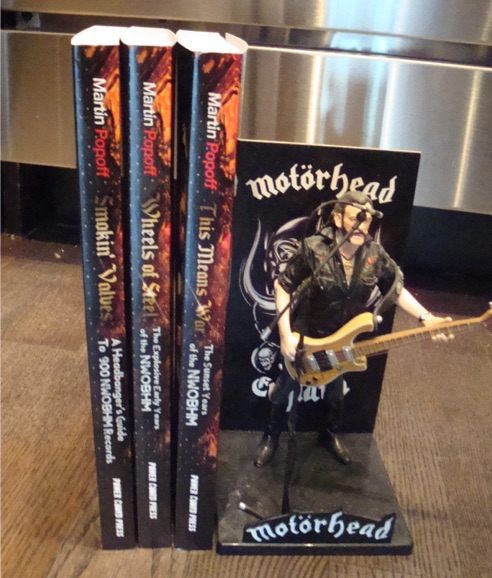 Below is the back cover blurb, for this study that feels like my favourite recent book Who Invented Heavy Metal? but basically covering a period one metal generation later.
And like my recent book, Swords and Tequila: Riot's Classic First Decade, I'm not only holding on price but lowering them a good 10% across the board. But still, remember, I am signing, packing these up and mailing from Canada.
Orders will be signed from me to you, so please specify if it's a present for someone else. Glad to sign as a present for your favorite denim and leather NWOBHM-jamming metal buddy.
Ah yes, the heroic, glory-rich daze of the New Wave of British Heavy Metal!
The year was 1979, and a brash new breed of heavy metal-maker was busy shoveling dirt over the death of punk, while simultaneous mourning the waning energies—or outright demises—of hard rock's earlier heroes, namely Led Zeppelin, Deep Purple, Black Sabbath and Uriah Heep.
In Wheels of Steel: The Explosive Early Years of the NWOBHM, Martin Popoff charts the long ramp-up to this detonation of headbanging mania through the late '70s, arriving at the penultimate first years of this flash phenomenon, namely 1979 and 1980.
Utilizing his celebrated oral history method—rich with detailed chronological entries to frame the story—Popoff blasts through all of the reasons the NWOBHM had to happen, and then drops down on all the singles, albums, live events and conceptual trends studding those remarkable two years, an era that essentially marks a coming-out party for heavy metal.
Come join Martin, along with dozens of his old school headbanging buddies, as they together tell the tale of this ersatz genre's birth and mischievous, defiant adolescence—heavy metal would forever be transformed, and Wheels of Steel celebrates plainly and yet powerfully, all the reasons why.
Prices for Wheels of Steel: The Explosive Early Years of the NWOBHM including shipping (the book will be signed, by me, to you, unless otherwise requested):
US orders
$39.00
US funds
Int'l orders
(air mail)
$48.00 US
funds
Canadian orders
$42.00
Cdn. funds
| | | |
| --- | --- | --- |
| | | PayPal happily accepted! Ask me if you'd like a PayPal invoice (please indicate what country you are in), or just do yer usual and direct funds to martinp@inforamp.net. |
Sweet postage savings to be had for multiple orders (or two of pretty much anything—long story, ask me!). Given new mailing system, works best for US orders.



Or mail payment (personal check in US funds, cash, or INTERNATIONAL money order), to:
Martin Popoff
P.O. Box 65208, 358 Danforth Ave.
Toronto, Ontario, Canada
M4K 2Z2




Email me at martinp@inforamp.net with any further questions, and see www.martinpopoff.com for descriptions, cover art and ordering info for my other available 30 or so books.
Also available as an eBook for the low price of $9.99!
Click here to order