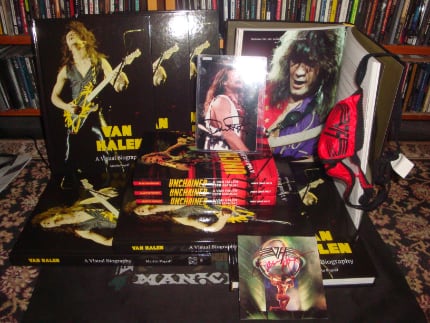 It's bittersweet given that this was going to print just as we lost Eddie, but we were able to stop the presses and add one last sad coda. So I feel like the Grim Reaper with these damn books, but yes, Van Halen: A Visual Biography is available for signing and shipping.
Pretty as hell, like the very similar BÖC and Lizzy, but be warned: this is pricey.
Let me explain:
UK publisher
Printed in Turkey
Shipping now from Toronto (a lot of shipping cost already incurred)
Hard cover, full colour throughout, 3.42 pounds—or 1.55 kilograms—of hard-partying Van Wailin' visuals.
Limited to 1000 copies.
What do you get?
Well, it's a 19,581-word exquisitely detailed timeline of the band's career, along with decade introductions and intro quotes. But the main point, of course, is the visual presentation. This is a hard cover book on thick 100 lb. gloss stock, clocking in at 224 pages. There are approximately 400 images, more than half of those being live shots from five decades of tap 'n' shred guitar, the rest being rare memorabilia, magazine ads, 45 sleeves, promo items, ticket stubs, passes… you name it, with Sam solo and Dave solo covered as well, the first time in a Van Halen coffee table book.
As the back cover sez: Once past the unfortunate fact that Van Halen didn't have the greatest album covers in the world, millions of fans around the world would attest that this is a band eminently deserving of a Wymer Visual Biography. From the single sleeves through the passes, posters and promo items and of course, most especially Dave, Ed, Mikey and Al themselves (and Sam, Gary and Wolfgang!), Van Halen was an explosion of colour and action, resulting in a feast for the eyes within the pages of this sumptuously appointed book you now hold in your hands.
As one celebrates this legendary band in karate-kicking action, from the mid-'70s all the way up until the last tour in 2015 and many solo points and projects in-between, provided for your reading pleasure is one of Martin Popoff's celebrated detailed timelines, stuffed with trivia that swiftly moves us through 40 years of massive rock history from one of the storied greats of the genre.
"Runnin' with the Devil," "Ain't Talkin' 'Bout Love," "Jamie's Cryin'," "Unchained," "Jump," "Panama," "Hot for Teacher," "Why Can't This Be Love," "Finish What Ya Started," "Right Now"… these are some of the biggest anthems of all time, and accompanying the tunes is the narrative of two opposing lead singers, Diamond David Lee Roth and Sammy "Red Rocker" Hagar, both of whom are also represented in detail vis-à-vis their solo careers amongst the celebration of the core band at hand.
The end result is a beach-balling an' sun-tanned symphony of words and pictures, indeed a book that differs from previous Van Halen photography projects through the inclusion of so much rare memorabilia, side ephemera and otherwise nifty pictures of paper goods perking up each page as one basks in what this band managed to accomplish over four decades of white-knuckle rock on the edge.
Price including shipping (yes, it's a lot of money, but remember this is a coffee table book and the postage is crazy, due to the weight):
US orders
$75.00
US funds
Int'l orders
(air mail)
$99.00 US
funds
Canadian orders
$88.00
Cdn. funds
Book will be signed to you from me, so let me know if it is a present for someone else, or you don't want it signed.
| | | |
| --- | --- | --- |
| | | PayPal happily accepted! Ask me if you'd like a PayPal invoice (please indicate what country you are in), or just do yer usual and direct funds to martinp@inforamp.net. |
Sweet postage savings to be had for multiple orders (or two of pretty much anything—long story, ask me!). Given new mailing system, works best for US orders.

Or mail payment (personal check in US funds, cash, or INTERNATIONAL money order), to:

Martin Popoff
P.O. Box 65208, 358 Danforth Ave.
Toronto, Ontario, Canada
M4K 2Z2




Email me at martinp@inforamp.net with any further questions, and see www.martinpopoff.com for descriptions, cover art and ordering info for my other available 30 or so books.