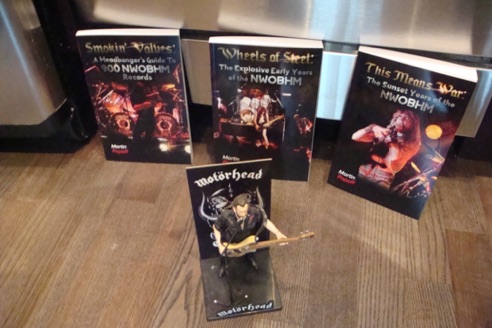 Stay with me, 'cos I'm now onto book THREE of an insane study of the NWOBHM, beginning with Smokin' Valves: A Headbanger's Guide to 900 NWOBHM Records, and then onto part one of the oral history, namely Wheels of Steel: The Explosive Early Years of the NWOBHM. The trilogy is now complete!
The New Wave of British Heavy Metal has received intense attention in recent years as a whole new generation of metal-makers have generated bands that have embraced the directly pre-thrash roots of modern heavy metal.
In This Means War: The Sunset Years of the NWOBHM, Martin Popoff and dozens of his UK rock buddies document the frenzied fruition years of the movement, namely 1981 and 1982, and then the many facets that caused the genre to implode by the end of 1984, with cracks in the armour beginning to appear the previous year. Why did metal disappear in Great Britain with the first hungover light on January 1, 1985? And where exactly did it go? The answers are enclosed, in the words of those who were there... and then nowhere fast!
Utilizing his celebrated oral history method—rich with detailed chronological entries to frame the story—Popoff blasts through all of the big events from 1981 to 1984, in this action-packed book that serves as concluding volume to Wheels of Steel: The Explosive Early Years of the NWOBHM—same easy reading format, same attention to documenting the subject at hand with visuals from the glorious era.
And by the way, this one's way more packed with historical images, with more substantive text as well. It's a beefy follow-up and conclusion to the well-received volume one, and the two together serve as a grand and exhaustive study of this momentous metal movement.
So come join Martin, along with dozens of the rockers themselves, as they together tell the tale of this ersatz genre's maturity and demise, a demise that is ultimately laced with the pride that a platform had been created on which metal was to thrive for all of the rest of the loud 'n' proud '80s.
Note: like my recent book, Swords and Tequila: Riot's Classic First Decade, I'm not only holding on price but lowering them a good 10% across the board. But still, remember, I am signing, packing these up and mailing from Canada. Orders will be signed from me to you, so please specify if it's a present for someone else. Thanks for your support—this is my final word on the NWOBHM!
Prices for This Means War: The Sunset Years of the NWOBHM including shipping (the book will be signed, by me, to you, unless otherwise requested):
US orders
$39.00
US funds
Int'l orders
(air mail)
$48.00 US
funds
Canadian orders
$42.00
Cdn. funds
| | | |
| --- | --- | --- |
| | | PayPal happily accepted! Ask me if you'd like a PayPal invoice (please indicate what country you are in), or just do yer usual and direct funds to martinp@inforamp.net. |
Sweet postage savings to be had for multiple orders (or two of pretty much anything—long story, ask me!). Given new mailing system, works best for US orders.



Or mail payment (personal check in US funds, cash, or INTERNATIONAL money order), to:
Martin Popoff
P.O. Box 65208, 358 Danforth Ave.
Toronto, Ontario, Canada
M4K 2Z2




Email me at martinp@inforamp.net with any further questions, and see www.martinpopoff.com for descriptions, cover art and ordering info for my other available 30 or so books.
Also available as an eBook for the low price of $9.99!
Click here to order