This 2013 version of the book has been updated as Wind of Change, and so I'm blowing out last copies of this at a reduced price. One plus with Top of the Bill (besides better cover!), is that there are about 350 MORE images included. Click here.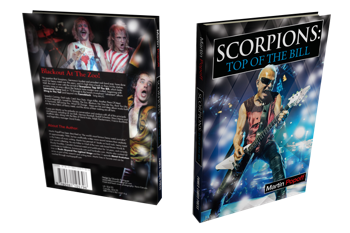 Below is the back cover blurb, but yeah, this is the book you guys have been asking for the most from me! Quite bizarre, but this is the only book on the band, other than Herman's memoir and this strange German-language non-biog from Rudolf. So yeah, pretty massive book here, and like the Nugent, designed by my buddy Eduardo so it looks nice and is stuffed with 380 pictures as well.
And you'll like the price of it, I hope. Even though I've reduced only a bit from past practice, it's actually down quite a lot because the damn postage has just gone up again. Orders will be signed from me to you, so please specify if it's a present for someone else.
Blackout At The Zoo!
No question that Scorpions, Germany's loudest and proudest rock band ever, have done much for heavy metal over the years, and it's high time a book on them hit the shelves. Well, the wait is over with the arrival of Scorpions: Top Of The Bill, which looks at every song on every album the Teutonic tone-masters ever crafted, beginning with Lonesome Crow back in '72 through to the band's triumphant "retirement" album Sting In The Tail (and beyond into Comeblack - long story!).
Speedy's Coming, Dark Lady, Catch Your Train, Virgin Killer, Another Piece Of Meat, Animal Magnetism, Lovedrive, Holiday, The Zoo, Blackout, No One Like You, Rock You Like A Hurricane, Still Loving You, Wind Of Change... these are hits and deep album tracks built into the very fabric of heavy metal, and the stories of their making are all here.
Come join Martin as he embarks on conversation and analysis with all of the principals and beyond, including Klaus Meine, Uli Jon Roth, Herman Rarebell, Rudolf Schenker and Matthias Jabs, along with the likes of David Krebs, Ralph Rieckermann, Francis Buchholz and legendary manager David Krebs.
Price including shipping:
US orders
$20.00
US funds
Int'l orders
(air mail)
$26.00
Cdn. funds
Canadian orders
$25.00
Cdn. funds



PayPal happily accepted!
Ask me if you'd like a PayPal invoice, or just do yer usual and direct funds to martinp@inforamp.net
Now available as an eBook for the low price of $9.99!
Click here to order
Or mail payment (personal check in US funds, cash, or INTERNATIONAL money order), to:

Martin Popoff
P.O. Box 65208, 358 Danforth Ave.
Toronto, Ontario, Canada
M4K 2Z2

Email me at martinp@inforamp.net with any further questions. Nice savings on shipping can be had if you take a few things, and as you know, I'm always good for swingin' a deal for two books or more. Just email me for a quote. But weirdly, for international orders, the magic number for good postage savings is TWO books, but not three.