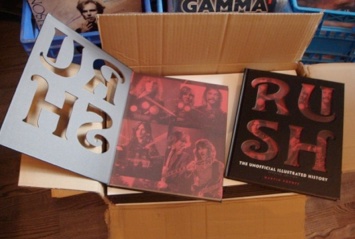 Rush: The Unofficial Illustrated History: Updated Edition
First a quick description: large format hardcover, 9 1/2" x 11 1/4", full colour throughout, the story of the band right up to Neil's famous bye-bye wave in LA, die-cut front cover, long reviews of the whole catalogue by top journos and mostest coolest... an explosion of visuals, from the very best live photography down to passes 'n' ads.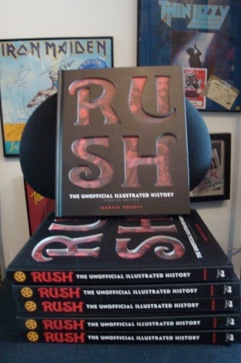 Here's the back cover blurb (more or less):
An epic visual celebration of Rush!
In this beautifully designed and illustrated history, prolific rock journalist the noted Rush authority Martin Popoff follows the world-conquering exploits of Geddy Lee, Neil Peart, and Alex Lifeson from the band's formation in Toronto to their fortieth anniversary record release, celebration and world tour. Popoff's stellar history is complemented by LP reviews from a slate of highly regarded music writers, a thorough discography compiled by the author himself, and more than 400 photographs and articles of memorabilia, running the gamut from candid backstage images of live performance photography to picture sleeves, gig posters, period print ads, ticket stubs, backstage passes, and more. The result is a visually stunning and authoritative review befitting the rock band with one of the world's most devoted fan bases.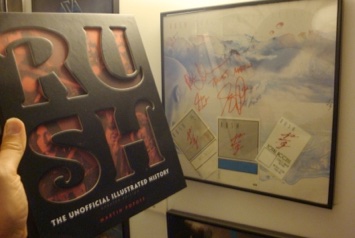 To order a copy, please proceed to Amazon