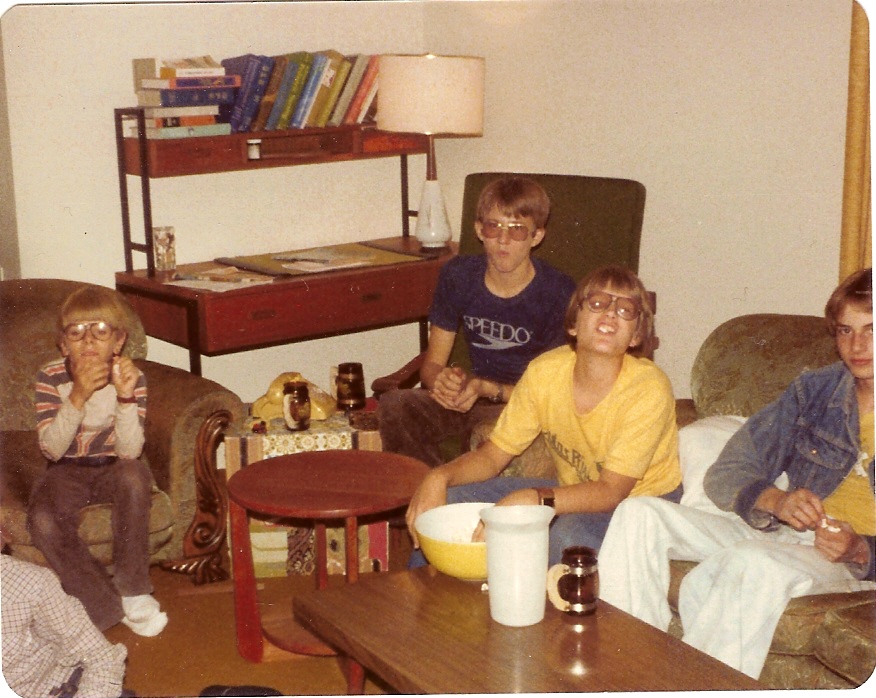 We got to learn shirt silk-screening in high school art class. I did a silhouette of Rob from the back of Sad Wings, but with the new logo. Yellow never seemed to catch on as the colour of choice for metal shirts. This is '79-ish.
---
Dudes, I can't believe it but my long-awaited Judas Priest book is finally out! It's designed very much like my Sabbath book only bigger and better, with clearer, more colourful photos. I'm in shock. Here's the scoop:
Big 8" x 10" format
541 photos and memorabilia shots!!!
Full colour throughout.
My usual chapter by album, track by track format
Fight, Halford and Tipton also covered in detail
380 pages and over one kilogram in weight
Embossed cover
And here's the hype from the back cover:
"Fall to your knees and repent if you please!"
When the world thinks of heavy metal in its pure, potent, undiluted form, it is none other than the Metal Gods, Judas Priest, that instantly come to mind. Chrome and black leather, studs and whips and chains, a chopper on stage to announce the coming& these are the tools of the trade for Rob Halford and his legendary band of Birmingham bashers.
Indeed, the Priest are the bringers of metal's biggest anthems. "Breaking the Law," Living after Midnight," Electric Eye," Turbo Lover," Victim of Changes," and especially "You've Got Another Thing Comin" ... these are songs woven into the fabric of metal's wild ride, Priest having been there since its origins, revving up crowds as superstars certainly for 30 years of that run.
Lifelong fan and preeminent metal historian Martin Popoff examines the Priest's rich legacy album by album, anthem by anthem, along the way recounting the band's shocking split with Halford in the mid'90s and his triumphant return in 2003. Having interviewed all the principals in the band repeatedly over the years, Popoff gives a firsthand account of Priest's rocky, often comical ride through the '70s, and through the gold and platinum records of the '80s, expertly detailing the long road back to the arena headline status the band now enjoys as heavy metal's proudest ambassadors.
Accompanying Popoff's lively text is a full color cornucopia of images, the band's gleaming steel imagery springing to life through a myriad of photos from the stage, memorabilia shots, cover graphics and all manner of Priestly feast for the electric eye...
Note: I'll be signing the book to you from me (with one of my pithy comments, soon as I can think of a few!), so let me know if it's a present or whatever for somebody else (I'm talking to you, gals with headbanging husbands and boyfriends).
Price including shipping... Well, sorry, but as I said, the package tips over one kilogram - multiple book orders good; same postage to US up to TWO kgs! Plus the Canadian dollar has soared against the US, and I'm in Canada:

This book is currently completely sold out.