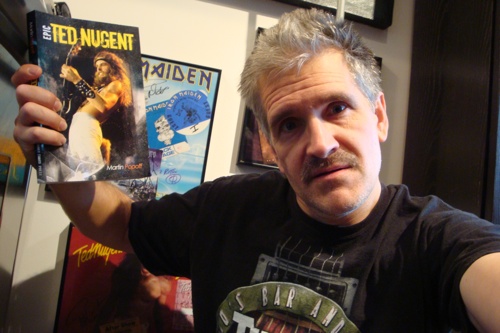 ---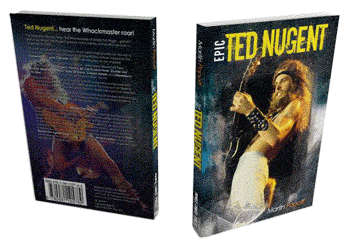 Guys, now usually I just give you the back cover text but first a little heart-to-heart. I loved doing this book. Ted was my first concert back in '76 and the guy just makes me happy. As well, Ted's an amazing interview and one of the ones I had with him, is like one of the most outrageous I've ever seen, and it's all here. Plus other chats with him, lots of Derek, and what was quite possibly the last interview dear Cliff Davies gave before his suicide in April '08. But dudes, there's the legendary David Krebs, Lew Futterman, a couple of Amboy Dukes, Don Branker of Cal Jam, lotsa Tom Werman, some Charlie, Rob, lots of research... if this ain't my best book, then certainly it's second to the BOC or tied with the UFO. And it's long – 292 pages, with the pictures not too big, and there's like 200 of those.
So yeah, as the back cover blurb sez… Ted Nugent... hear the Whackmaster roar!
The Tedinator, Deadly Tedly, The Whackmaster or simply The Nuge... guitarin' Detroit gunslinger Ted Nugent goes by many names, but his riff-mad rock 'n' roll speaks for itself.
This is the detailed story of the man's music (and emphatically not the rest of it), from the Amboy Dukes through to his bloodthirsty revival marked by the Craveman and Love Grenade albums—all men play on ten, indeed!
But above else, it is the story of his classic, celebrated albums with Epic Records, namely Ted Nugent, Free For All, Cat Scratch Fever, Double Live Gonzo!, Weekend Warriors, State Of Shock, Scream Dream and Intensities In 10 Cities... all so much furious fun we hadda name 'em all.
Telling the Tedly tale, offering all manner of fresh perspective in interviews with the author, is Ted himself, along with major players in the story such as Derek St. Holmes, Rob Grange, Cliff Davies, Lew Futterman, David Krebs and Tom Werman.
Immerse yourself in Martin's celebrated record by record analysis and emerge out the other end of this thick yet fast-paced tome as a renewed soldier in Ted's army. Still alive and well... still raising hell!
Now available as an eBook for the low price of $9.99!
Click here to order
NEWSFLASH
This book is now updated and expanded to include a full examination of the Whackmaster's Shut Up & Jam! Album (but only to that point). The new 283-page book uses the same awesome Rich Galbraith cover shot and is now called Motor City Madhouse: Going Gonzo with Ted Nugent. This is what I will be sending. The original edition is now all gone.
Price including shipping:
US orders
$35.00
US funds
Int'l orders
(air mail)
$46.00
Cdn. funds
Canadian orders
$39.00
Cdn. funds



PayPal happily accepted!
Ask me if you'd like a PayPal invoice, or just do yer usual and direct funds to martinp@inforamp.net
Or mail payment (personal check in US funds, cash, or INTERNATIONAL money order), to:

Martin Popoff
P.O. Box 65208, 358 Danforth Ave.
Toronto, Ontario, Canada
M4K 2Z2