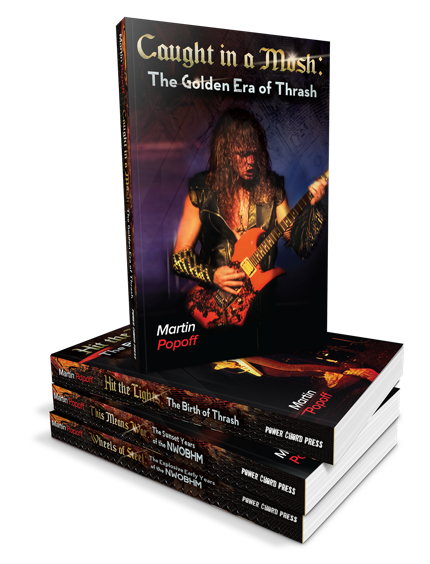 In the intensities in ten cities follow-up to Popoff's celebrated New Wave of British Heavy Metal trilogy (Smokin' Valves, Wheels of Steel and This Means War) along with Hit the Lights: The Birth of Thrash, Martin now offers all the tales of the bands and records that built thrash metal into a juggernaut circa 1983 to 1986.
In the words of those who were there plus the music-makers themselves, this is the story of records like Ride the Lightning, Killing is My Business, Spreading the Disease and Reign in Blood, along with contributions from Anvil, Exciter, Voivod, Overkill, Pantera, Exodus, Celtic Frost and the German contingent of Sodom, Kreator and Destruction. Multiple members of all the above bands get their say, along with the industry giants that sent the records into the shops. The end result is the ultimate history of thrash's most blessed and blasted years, a golden time for metal that forms the bedrock of the thriving thrash scene of today.
This is now completely sold out.
Please click here to order the eBook edition.