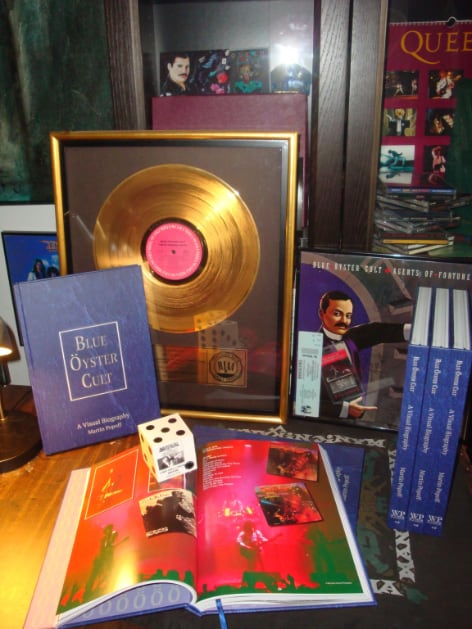 OK, got 'em… Blue Öyster Cult: A Visual Biography has just arrived at the office and is ready for signing and shipping. Not at my website yet, but yes, boxes are here and I am sending them NOW.
Blue Öyster Cult: A Visual Biography
Pretty as hell, but be warned: this is pricey.
Let me explain why:
printed in Turkey, sent to me from the UK and shipping from my office in Toronto and it's heavy!
mailed in custom-size box
limited to 1000 copies (i.e. short print run for such an elegant tome) and going fast
hard cover, full colour throughout, 3.627 pounds or 1.645 kilograms of yummy Cultster visuals.
little blue ribbon bookmark thingie
large 8 ½" x 12" format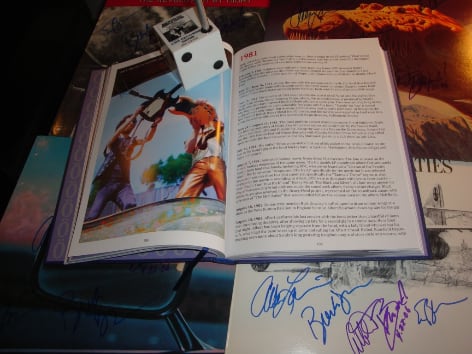 What do you get?
Well, what I didn't want to do is have overlap with my BÖC book Agents of Fortune, so for the reading part of the laser show, what this is, is a 15,000-word timeline of the band's career, along with decade introductions and intro quotes (the only lift from the old book I did).
But the main point, of course, is the visual presentation. This is a hard cover book on thick 100 lb. gloss stock, clocking in at 240 pages.
There are approximately 420 images, more than half of those being live shots from five decades of stun guitar, the rest being rare memorabilia, magazine ads, 45 sleeves from all over the world, promo items, buttons, ticket stubs, passes… you name it.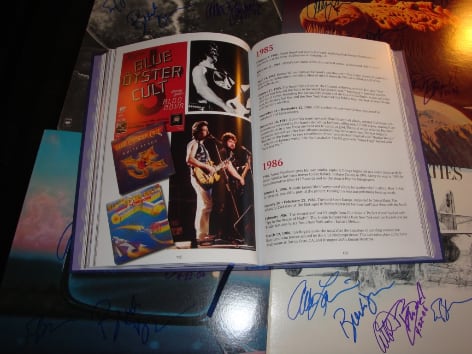 And who is Blue Öyster Cult? Just the coolest band of all time, and visual magic, as this book attests. Gold and platinum through much of the '70s and early '80s, this is the band that brought you Tyranny and Mutation, Secret Treaties, Spectres, Fire of Unknown Origin, "(Don't Fear) The Reaper," "Godzilla," "Burnin' for You" and, well, more cowbell. And Buck and Eric are still killing it live—that's the best part.
But you know all that. Anyway, books will be signed by me to you unless you wave your arms wildly and tell me otherwise within like half an hour of ordering!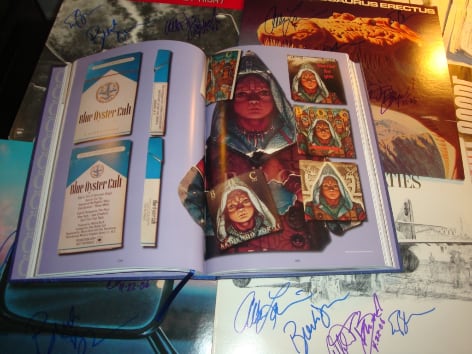 This book is completely sold out!
Email me at martinp@inforamp.net with any further questions, and see www.martinpopoff.com for descriptions, cover art and ordering info for my other available 30 or so books.